a new issue
of
Apex Magazine
to enjoy, with work by Ken Liu, Rachel Swirsky, Maria Dahvana Headley, Kat Howard, Daniel José Older, Sandra McDonald, and me, as well as art by Katy Shuttleworth. This is the last issue edited by Lynne Thomas, closing out her two years of extraordinary service to the magazine.
There's excellent stuff in here: Ken Liu writing a
powerfully effective story that consists of one sentence
; Maria Dahvana Headley's heart-breaking rumination on
memory loss, bereavement, and sea horses
; and Kat Howard's more literally heart-breaking
explorations of haruspicy
. Rachel Swirsky's
"All That Fairy Tale Crap"
first appeared in
Glitter & Mayhem
and is as startling and irreverent here as there.
For my part,
"Turning the Leaves"
is an unabashed tribute to Lynne Thomas, who asked me to write her a poem in a way that felt like her taking my hands in hers and looking me in the eye.
Sigrid Ellis is taking the reins at
Apex
, and I'm really looking forward to what she does with it. Meantime I raise this mug of milky tea to Lynne and say cheers; you were fantastic.
We're well into December, my birthday's four days away, and there's
Current Location:

Glasgow

Current Mood:

calm

Current Music:

quiet
Tonight was a lovely evening with
rushthatspeaks
. We were meeting in Harvard Square for a pair of movies we'd been looking forward to since October. Dinner was located at
Crema Café
, home of the cardamom-currant snickerdoodle (sadly no longer home of the lamb sandwich with walnut aioli I've ordered every other time I've eaten there, but their spinach-artichoke grilled chicken was quite a satisfactory substitute), after which we took up a spare hour with the Harvard Book Store; I departed with a neat little reprint edition of Tom Stacey's
The Man Who Knew Everything
(1988), which I bought on the strength of the first three pages and John Hurt having once played the protagonist. We weren't even late for the movies. They were worth waiting two months and a protractedly late train for.
As part of their Chris Marker retrospective, which I have otherwise completely missed, the HFA screened a
double feature
of
One Day in the Life of Andrei Arsenevitch
(2000) and
A.K.
(1985). They're short films, running 55 and 75 minutes respectively; I don't know if they were created as complements, but they make a natural pair.
One Day . . .
looks as though it was originally conceived as a study of Tarkovsky on the set of
The Sacrifice
(1986), much as
A.K.
concentrates on Kurosawa on the set of
Ran
(1985), except that Tarkovsky was diagnosed with terminal cancer either during or shortly after the shoot, at which point the documentary seems to have shifted to become a meditation on his life and career. It is not dispassionate; it doesn't pretend the camera isn't there. Tarkovsky in his hospital bed in Paris, editing
The Sacrifice
with the help of tapes and portable televisions, wrapped in a camel-colored bathrobe and later a headscarf that he says makes him look like a pirate, talks as much to Marker's camera as to anybody, at one point calls out to Chris to make sure he hasn't missed a good line. He is sharp and lively and ironic for a man who will die within the year; he was just reunited with his fifteen-year-old son after five years of Soviet refusal. He is conscious of playing a part for the press. He doesn't talk much about his own movies; Marker does that, through the voice of Alexandra Stewart, and he is absolutely in love. I can't tell what either
The Mirror
(1975) or
The Sacrifice
are about, but I am very curious about both of them, and
Stalker
(1979) sounds like something I will adore. Thanks to
hylomorphist
, I own a DVD of
Andrei Rublev
(1966), which I think I have no excuse not to watch now. There are beautiful long floating shots, things with the calm, commonsensical, unexplainable juxtaposition of dreams. I don't want to sound unimpressed with
A.K.
, but I already knew I liked Kurosawa; the second feature told me mostly that I like Marker's ability to film a documentary without assuming either an artificial distance or an equally showy intimacy, that being an extra in a
jidaigeki
is pretty much like being on campaign in an actual sixteenth-century army, and that I need to see
Ran
, because I want to know the relationship between the action I just watched from behind the scenes and the shots produced by the camera. Marker records the filming of a luminous, oneiric scene of mad Hidetora riding through a field of glittering golden grass by night, with a huge golden moon "worthy of Meliès" following him in the arms of an unseen stagehand—the crew spent all day spray-painting the field—after which we are almost unsurprisingly informed the scene was cut from the final film. The fog that billows around Mount Fuji delays filming; only up to a certain density can it be intercut with footage of battle-smoke. A nameless extra, hanging out around the fire with his blanket and his hot soup because those black volcanic slopes are
cold
, jokes that he should get a subtitle—and Marker gives him one, complete with sweeping title music: "The Unknown Man of Fuijiyama." (I really hope he saw the film.) There's less attempt to make a coherent symbol-set of Kurosawa's oeuvre, more attention to the members of his team. An elegaic moment is given to the sound engineer Fumio Yanoguchi, whom Marker compares to "an elegant old cat"; he died during production. I still think I'll have a harder time not tracking down all the Tarkovsky I can get my hands on
tonight
.
And then because it was Sunday, the MBTA was fucked and we spent half an hour waiting for Rush's bus in the freezing cold of Davis Square. Still and totally worth it.
We may be watching some Tarkovsky this week.
Thank you to everyone who was glad to hear I wasn't dead. There have been no more fainting episodes. I hope to be able to say that for years. It was not an experience I need to repeat.
Current Music:

Siouxsie & The Banshees, "The Passenger"
here.

kaberett
's suggestion was to talk about my "relationship with food and cooking and feeding people, and what you aim for when you cook and why (especially the contextual variations!)"
This one is both easy and difficult, easy because it's one of the key relationships in my life and difficult because of

kaberett
's high bar for how they write, and the request for contextual variations.
Cooking is arguably my most central pleasure in life. I like food and eat plenty, and plenty of variety, but eating doesn't give me the pleasure that cooking does; it's over too soon and I'm often thinking as much about my companions, the conversation, or whatever else is on my mind, as noticing my taste buds.
Cooking, on the other hand, takes a good deal of my attention even when I'm talking to other people or thinking about other things. It also uses all my senses, which eating generally doesn't do anywhere near as much. I'm not the kind of cook-with-my-ears cook that

kaberett
described in a recent post, but I do like the sounds of chopping and bubbling and sizzling, the sights of the ingredients and how they change as they are cooked or marinated, the feel of various fresh good things under my hands and the knife, and nothing is better than how the kitchen smells when something is just about ready to eat.
I've been a decent cook for as long as I can remember, but in the last ten years or so I've gotten a lot more active about it. Those are the years in which

pokershaman
and I became first regular farmers' market shoppers and then CSA (community-supported agriculture) participants, which has been one impulse to better cooking. Also, those are the years in which he became an artisan breadbaker and a chocolatier and, while neither of those two things especially attract me, I don't like being "oh, and she cooked dinner too" while everyone is raving about the bread and the chocolate. So I stepped up my game. Also, hanging out with

pantryslut
and their cookbook collection (and eating their cooking on a regular basis) is another factor. Also, both watching our carbs.
So I cook more, and try to vary it more. I use more spices and more recipes (I've always been, and still am, much more of a "recipe cook" than an improviser). I think about what works and what doesn't, and try variations and repeat things differently. I cook dinner almost every night that we're home, and it's often the highlight of my day.
Feeding people is where the deepest pleasure, and the contextual variations, come in. I absolutely love feeding people, especially people who are hungry not just for food but for other kinds of nurturing.
seyewailo
, who doesn't post around here any more, wrote something wonderful some years back about kissing the vegetables when she makes soup for sick friends. I'm too self-conscious to
actually
do that, but I think about it all the time.</div>

serene
and I share an uncommon fondness for cooking for people with food limitations, though she is more creative about it than I am. I especially like being able to put a dinner on the table for someone who is used (for whatever allergic or other reasons) to having to be super-careful about what they can taste, and say "It's all safe for you" with confidence. I love remembering who can and can't eat what. as well as what people like and don't like (a trick my mother did instinctively and I do by having trained myself).
The contextual variations, I think, have to do with what the meal (or treat) is and who it's for. For pot lucks, I think about what I have in the house, what people seem to eat the most of at pot lucks, what might be a treat. Pot lucks for work are different than pot lucks for parties of friends (I think I'm just more conservative for work pot lucks, but I am a staunch contributor.) For bringing food to houses of trouble or mourning, it's about what would look appetizing to a person who didn't feel like eating, what do I know about these particular people's comfort foods, what would last or could be frozen, what is easy to offer guests if you don't feel like doing a damned thing, but your house is full of guests. For my own dinner table with company (which we often do, but have slacked off on recently), it's what would this person or these people really enjoy (sparked by what I have in the house, which with the CSA means also what's seasonal), what would be special or memorable (sometimes), what would I like to make, what do I want to remember having fed them. Because we eat in our kitchen, it's less about what can I make in advance, though that can be a factor. Recently, we've been fed two dinners by an
extraordinary
cook, and we're both thinking about "could we make a dinner of that quality? what would we have to change and think about?"
That's a start, anyway. Come for dinner and help me figure out more about this (this is a serious offer if you're in or come visit the Bay Area). And if anyone has a source of good gankable food icons, I would love that too.
Feel free to fill in the blanks in the topic open house post
Current Mood:

accomplished
Overheard at today's estate sale: "Oh look, square shirts!" "What?" "You know, for when you have to attend, like, a square function."
There was a fairly consistent aesthetic on display. Jewel tones much in evidence.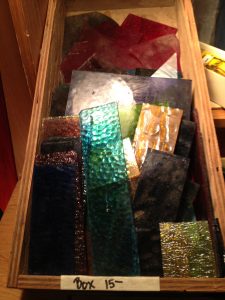 Nice solid mirror.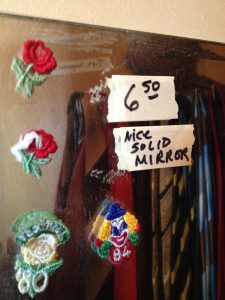 It was difficult to resist this aghast-looking greenish ceramic spaniel, particularly set off as it was by the dazzling paisley curtains, but I managed.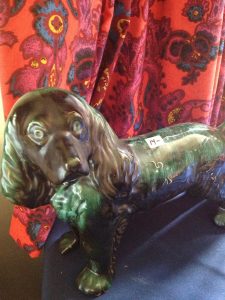 Does your growth measure up?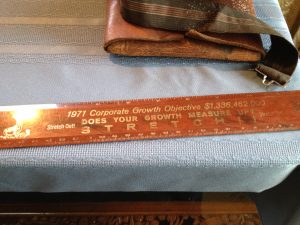 All 5.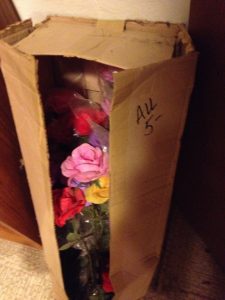 P.S. Bad Houses recently made a couple of appearances in distinguished company: Paste Magazine's 10 Best Comics of 2013, TIME Magazine's 10 Best Comics and Graphic Novels of 2013.
P.P.S. And in case you were wondering if I bought anything at today's sale the answer is yes: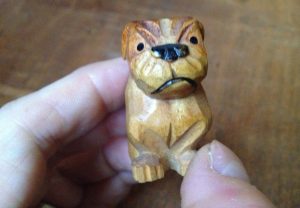 He was fifty cents.
Originally published at sararyan.com. You can comment here or there.

The ones you just bump into in the street,
Have drinks with in the pub, don't plan to meet,
But happy to have join you when they show.

He always went by Spider. He was great;
He taught my son high fives; he had a scarf
Like Doctor Who; he always made me laugh.
Friend is too strong a word, he was a mate.

How little, and how much, what's to be said?
He joked, and shared his warmth, earth-salt, true gold,
Until leukemia made his blood run cold,
For years I knew him slightly. Now he's dead.

He never shook the skies or took up space
But made the world a gently better place.
There's people you see sometimes, that you know,


Canit be that these stories are affected by European versions learned later by Indian story-tellers? I can see where any people might think up the idea of very small humans, but is that enough to generate all the other notions about them? (We don't see them commonly, so they must have a way of remaining invisible, etc.). It's enough to tempt me to think that once we did have small companion species, back before the Indians came to the Americas, and that the stories are part of a world story. I mean I'm tempted, you know, not like convinced.

ANyone know these legends and can give me thoughts? References?
ANy mythographers or ethnographers reading? I have just learned that American Indian people across the entire continent have stories and legends about a race of little people living around them. My ignorance of Indian myth and legend is nearly total so it is no surprise I should be surprised. But what amazed me is how the Indian stories and accounts of these people match with great exactness what might be called the etholology of the European little people -- elves, fairies, leprechauns. They stand about knee-high, mostly; they live in deep forests or in mountain caves; they can't be seen when looked at directly, but with patience they can be made visible. If they want not to be seen they can point a finger at you and cause you to be unable to percieve them, or root you to the spot while they escape. Leaving gifts of food or tobacco for them will bring you their help. Some are truculent, stone-throwers who move great stones around the territory. You must speak of them with respect or they will play tricks on you, and not speak of them at all in the summer when they are often about. In one story at least, a poor boy who helps them is taken by the little people to their land (he shrinks to their size when he enters their little canoe) and when he returns after a couple of days he finds that many years have passed.
Coyote Still Going
, a collection of Native American legends and contemporary stories by Ty Nolan. Actually it's much more than this. It's the thoughtful reminicenses and personal history of Nolan, along with recipes (delicious! I have tried them), links to pictures of artifacts and artwork (and sometimes just to funny stuff—like a closeup on a rabbit's nose), in addition to the folk stories. It's a **wonderful** book in every possible way—so intimate and generous.
(
Things I've said about this book earlier
Collapse
)
What strikes me overall is the grace and balance between the traditional tales and Nolan's own stories of his own experiences, and his thoughts on healing, different cultures, and the power of story. He tells two versions of the story of Dash-Kaya, or Wawa-yai—a monster who drinks human blood and eats human flesh. In both versions, the monster's demise involves exploding into tiny pieces—these are mosquitoes, which still drink human blood. Nolan reflects,
Dash-Kaya or the Wawa-yai don't suddenly vanish—but they become something you can live with on a daily basis.
He says that he's used this in dealing with addiction: it's not that the issue disappears, but that you can manage it. Later he talks about the difference between curing and healing—you can be healed even if you can't be cured.
He has more thoughts on language and how different languages let us express different things:
(
what Navajo lets you express
Collapse
)
And then he told a funny story about expressing the concept of far-away. At one point he did some work in remote portions of Saskatchewan:
(
Bermuda, Saskatchewan--anyway, some place far away
Collapse
)
(
who's saving whom?
Collapse
)
Coyote Still Going
really has so, so much to offer you—traditional tales, a look at what it's like in Native American communities today (up in Saskatchewan, Nolan recalls that "the community entertained itself by playing bingo over the radio, since there was no television,"), thoughts on language, culture, and healing; recipes sweet, savory, and spicy; and art (like this
Transformation Mask,
which shows a human face within the blood-sucking, flesh eating monster of the tale I described above). And Ty Nolan is sharing them with us directly: this is another self-published book. If you read it and like it, spread the word!
Coyote Still Going
on Amazon
and at
Barnes & Noble
and
Smashwords
I've just finished
Current Music:

Like the Bike: Ceiling Can't Hold Us
Terri Windling, Delia Sherman & I are selling our beloved
Endicott West
, the house/arts
retreat
we all put together in Tucson, Arizona some 13 years ago . . . The letters are flying back and forth across the Atlantic, of course, as we three come to terms with this change in our lives, and say good bye to a past and a vision. In one of them, Terri wrote:


A wise woman I know named Ellen Kushner once said this in an interview in Locus magazine: "Now my generation, we're all hitting late-thirties to late-forties. Our concerns are different. If we stick to fantasy, what are we going to do? Traditionally, there's been the coming-of-age [novel] and the quest which is the finding of self. We're past the early stages of that. I can't wait to see what people do with the issues of middle age in fantasy. Does fantasy demand that you stay in your adolescence forever? I don't think so. Tolkien is not juvenile. It's a book about losing things you loved, which is a very middle–aged concern. Frodo's quest is a middle–aged man's quest, to lose something and to give something up, which is what you start to realize in your thirties is going to happen to you. Part of the rest of your life is learning to give things up."
I don't remember saying all that! But I do recognize both those thoughts as coming from conversations I had with
Michael Swanwick
, back when I used to visit him in Philadelphia after Philcon. We'd stay up late talking, and then he'd drive me around the city, showing me local curiosities and dispensing wisdom and pensées - mostly just posing questions, and chewing on them happily together.
I like to quote my sources, so: Thank you, Michael.
Fortunately, Mr. Swanwick wrote up his thoughts on Tolkien in a gorgeous essay for Karen Haber's
Meditations on Middle Earth.
I invited him to speak about them on my public radio show,
Sound & Spirit
, for one of the last shows I did,
The Lord of the Rings
- and, Lo!, someone has transcribed his words and put them up on The One Ring Forum,
here
!* (You can also listen to the entire 1-hour radio show - including the Swanwick interview -
here
.)
Oddly enough, speaking of the LOTR S&S show, I just got FB Friended by a guy in Poland with the rather elegant name of
Ryszard Viajante Derdzinski
who says, "
Your broadcasts are famous among the Polish fans of JRR Tolkien.
Thanks to you I discovered The Tolkien Ensemble and Varttina."
Wow. What goes around . . . certainly goes around! And Finnish women's neo-trad singers
Värttinä
can't have too many fans.
*Swanwick quote from
Sound & Spirit: The Lord of the Rings:
(
When my son, Sean, was nine years old he told me I had to read him Lord of the Rings because his friend had LOTR read to him and he was only eight years old so Sean was suffering from major loss of prestige. It was a really wonderful experience to travel through Middle-earth with my son. Every night at bedtime, for months, we'd follow the Hobbits through Middle-earth. And it was really a great experience for both of us, but... as we read, I realized that Sean was hearing a very different story from the one that I was reading. The story that he was hearing was the same one I read when I was sixteen. It was the greatest adventure story in the world. He really loved it, but... as a forty one year old man, what I was hearing was the saddest story in the world. Everybody in that book is in the process of losing everything they hold most dear. And there's nothing they can do about that. Galadriel mourns the withering of Lothlorien. The Elves are leaving Middle-earth. Ents are slowly dying away as a race and turning back into trees. The Shire is changing and not for the better. Frodo loses more than anybody. At the end of the three books, Frodo has lost everything. He's saved the entire world but there is no place for him in all of Middle-earth. All that he can do is go to the Grey Havens and die. That was an important book. I probably read it 20 times through. I might even have read it 20 times in a row, straight through. And then, at some point as an adult, I went away from it and I was afraid to come back because I was afraid it would be a children's book. And then, I reread it... it's an adult book. There were depths in it I could not appreciate at 16. Sean couldn't appreciate at 9. And you have to have experienced sorrow and loss to be able to appreciate it. Tolkien knew that, if you want to live in this world, the price you have to pay is, at the end of the ride, you have got to die. But that's okay. That's a small price to pay.
Collapse
)
derspatchel
and I went to a hotel. We are not having a honeymoon in the formal sense, although we are planning some trips in the upcoming year, but we wanted something a little offset from the everyday of our half-unpacked apartment and dishes in the sink and it was the correct decision. We met his mother in the afternoon and took her to see the glass flowers at the Harvard Museum of Natural History. We went home afterward and ate dinner quietly, by ourselves. We were looking forward to sleep.
For our second night, we went to the ER.
It is good to know I have married the sort of person who will literally catch me when I fall, but I could have done without the intense nausea, dizziness, tinnitus, and whiteout that preceded me fainting for the first time in my life that I can remember. I don't even remember reaching for the seltzer, which is what Rob tells me I was doing when I dropped. I just remember his voice sounding suddenly anxious ("Sonya? Hon? Hon, stay with me!") and the disoriented realization that intead of being on my feet near the green basket chair, however sickly, I was on the floor in front of it, supported against him. Then I fell over sideways and shivered a lot. He put a pillow under my head and his bathrobe on top of me for a blanket. We called urgent care. The woman on the other end of the line said something about
in sickness and in health
and I protested distinctly,
we didn't even promise that!
It took me much longer than usual to get dressed; the ringing in my ears was deafening and metallic and something was wrong with my inner ear, so that I felt whirling and out of phase with my own body every time I bent or stood or turned my head. It was in fact fairly frightening, because I had no idea what was causing it. I wondered if it was an ear infection. We'd ruled out food poisoning after I didn't throw up. My mother drove us to Mount Auburn, where I was promptly
injected, inspected, detected, infected, neglected, and selected
plugged into a heart monitor, an oxygen monitor, and an IV drip, given an EKG and depleted of several vials of blood, and then ignored for the next three hours. I was freezing and they piled heated blankets on me. The light sensitivity and the acute dizziness faded as the boredom and annoyance came in. Rob read a history of Marvel Comics and I did not sleep because the blood-pressure cuff set off an alarm every time it checked me, which was apparently not diagnostic of anything.
The eventual diagnosis was "vasovagal syncope," which turns out to mean "you felt lousy and you fainted." I hadn't experienced a seizure; I hadn't hit my head when I fell; I had been unresponsive for several moments after passing out, but all my neurological reflexes checked out fine at the hospital—I remembered asking Rob during the slow, light-painful, stumbling-into-things dressing phase if I was making sense when I spoke and he answered unhesitatingly yes. I would have trusted him to tell me if I was not. They sent us home around eight-thirty in the morning on a day when neither of us could stay in bed later than noon; I took a shower to wash off the last traces of EKG glue that the little acetone packets they lend you if you don't have nail polish remover at home had been unable to remove and we both went to bed.
I am now awake; as a state of being, it is totally overrated. But I am not dizzy, not nauseated, not falling into things, and incidentally enjoying being married. A lot. So that's cool. I have to thank like the entire internet tonight.
In other news, my flash "Anonymity" has been accepted by
Mythic Delirium
. The piece was originally set to appear in
Fantastique Unfettered
's
Shakespeare Unfettered
special issue, but it was left homeless when
FU
folded in October; I am very pleased that
time_shark
decided to pick it up, because I had no idea where on earth it would fit again. It's Shakespeare and Marlowe on the internet, snarking about the authorship controversy. I should have trusted the weirdness of a man who wears the Goblin Queens' hat.
So, life.
For our first night as a married couple,
I just posted this over on Tumblr, but wanted to share it here as well.
I've criticized The Big Bang Theory for things like its ongoing obsession with fat jokes, its casual sexism (OMG, girls don't read comics/play D&D/etc), the handling of Sheldon's autistic/OCD issues, and an ongoing sense of laughing at geeks instead of with us.
But I want to give a shoutout to something the show did recently in "The Itchy Brain Simulation." Leonard discovered a DVD he had forgotten to return for Sheldon, and started worrying about how Sheldon would react. Because we all know Sheldon can't let anything go, and would be completely annoying and freak out about the unreturned DVD, right? And then we the viewers can all laugh at the neurotic genius and ask why his friends put up with him.
Only it didn't play out that way. Sheldon countered by asking why Leonard didn't consider how annoying and difficult these things were for him. As far as I know, this is the first time Sheldon's ever stood up for himself in this way. He took it a step further, saying he'd remain calm about the DVD … if Leonard wore an itchy sweater he had gotten as a gift until the DVD was returned.
Animated gifs ahead. (I did say this was being copied from Tumblr…)
(
Read the rest of this entry »
Collapse
)
Mirrored from Jim C. Hines.