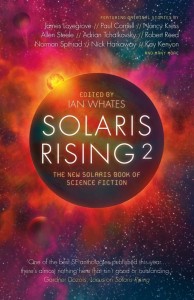 This is actually old news, but it's taken me quite a while to get around to making a note of it, so please forgive. The Ian Whates-edited anthology Solaris Rising 2: The New Solaris Book of Science Fiction, which contains my far future sf story "Still Life With Skull," is one of seven finalists for the 2014 Philip K. Dick Award "for distinguished science fiction published in paperback."

Though I'll confess that I've lapsed into dirty-minded juvenile puns every time I've mentioned this award in conversation … it's still an honor to be nominated (or to be 1/20th of a nominee, as Martin McGrath cleverly put it.) Wishing Ian all the luck when the winner is announced April 18.

#SFWApro
Originally published at DESCENT INTO LIGHT. You can comment here or there.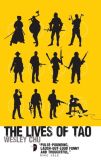 The Lives of Tao [Amazon | B&N | Mysterious Galaxy], is Wesley Chu's first novel, and I kind of hate him a little bit for that. I picked up and started reading the book because I had met Wesley a while back, and he seemed like a pretty cool person. I finished reading it because it's such a fun read.
Tao is basically a symbiotic life form, one who requires a human or animal host to survive on Earth. His people crash landed on our planet ages ago, and are now at war. Tao and the Prophus want to peacefully encourage humanity's evolution until our technology is advanced enough to help them get home. The Genjix are believed to have similar goals … minus the "peacefully" part.
After a mission gone wrong results in the death of Tao's human host, he's forced into the body of an unambitious, insecure IT technician named Roen. This is the time, when he's stuck in an untrained host, that Tao is most vulnerable. He has to keep Roen alive long enough to get him trained, and eventually to try to figure out what the Genjix are really up to this time.
Like I said, the book is a lot of fun. Tao is a great character, one who has existed in some of the greatest hosts in human history. (Genghis Khan, for example.) Tao tells Roen dream-stories about some of his past lives at the start of each chapter, which gives him (and us) the background of both Tao and his people.
Tao has tons of experience and knowledge, but upgrading Roen to superspy status isn't as easy as simply plugging him in. There's plenty of banter, entertaining training scenes, lots of action, and characters you want to keep reading about.
The only real complaint I have isn't about the writing so much as it is one of the tropes Chu uses in the book. He's created a world in which many of the wars and tragedies of human history were actually engineered by the Genjix. While it makes sense in the context of the book, I've never liked that particular trope, since it would seem to excuse us for our own atrocities. I know it's fiction, but it still bugs me. Humans are capable of amazing things. We're also capable of horrible, evil things. Pretending otherwise feels like lying about human nature.
Like I said, it's a personal peeve.
There's a twist in the ending that I saw coming pretty early on, but overall, it's a good ending, one that wraps up the events of this book while making it clear there's more to come in the series.
You can read an excerpt of the book at Tor.com. I'm looking forward to reading the sequel, The Deaths of Tao.
Mirrored from Jim C. Hines.
Toasted Cake
for
"Mon pays c'est l'hiver,"
and my RSS feeds to find a
wonderful review
by Sofia Samatar of the issue of
Lackington's
in which that story appears. A good day for stories about winter, homesickness, and sick homes!
But both of these pale in comparison to the third thing, which is that my sister, brother-in-law, and youngest brother sent me a video of them performing "Open Door" from
Frozen
just for me, with my sister and BIL playing Ana and Hans while my brother provides the most stoic maracas performance in the history of everything.
I want very much to share it with the world but can't until they wake up in Canada to give me permission, so for now you must rest happy in the knowledge that it is perfection and has yet to stop making me ridiculously happy.
In other news, I'm
moderating an online panel
this evening! At 5:00 PM EST (9:00 PM GMT at the moment due to the magic of time zones and the end of DST) I'll join Malinda Lo, Jaye Wells, and Michael Marshall in a Google+ hangout to discuss genre thrillers in general and three of their books in particular. This is the first time I've done anything like this so I'm nervous and excited; closer to the event there'll be a link posted through which you can watch it happening live on Youtube, and chime in with questions through it and/or on Twitter if you like. In fact, if any of you have burning questions about Malinda Lo's
Adaptation
, Jaye Wells'
Dirty Magic
, or Michael Marshall's
We Are Here
-- or any questions about genre thrillers more generally -- do feel free to leave them in comments, and
RSVP
to the event.
A flurry of lovely things this morning: I opened my email to find an acceptance from Tina Connolly of
Current Location:

Glasgow

Current Mood:

excited

Current Music:

"Open Door," from Frozen, but BETTER


For those poor souls who do not have HBO, as a public service, here you go:



I loved it, myself. But I'm hardly an objective audience.
HBO unveiled another trailer for season four tonight, just before the finale of TRUE DETECTIVE. (And what a helluva series that was).
Current Location:

Santa Fe

Current Mood:

cheerful
Singin' in the Rain
(1952) at the Somerville Theatre and then dinner at Za in Arlington, where my brother and his wife met us with their three-month-old. We went back to Lexington afterward for cake. I took pictures.
(
The fruit is full and fat this year on the orange trees.
Collapse
)
I am off to read Ben Aaronovitch's
Broken Homes
(2013) and sleep.
Photo-post. For my mother's birthday, we took her to
Current Music:

Agnes Obel, "The Curse"
Hello, everyone, and welcome to my journal. I'm pretty sure you know who I am, my name being in the URL and all, but just in case, I'm Seanan McGuire (also known as Mira Grant), and you're probably not on Candid Camera. This post exists to answer a few of the questions I get asked on a semi-hemi-demi-regular basis. It may look familiar; that's because it gets updated and re-posted roughly every two months, to let folks who've just wandered in know how things work around here. Also, sometimes I change the questions. Because I can.
Current Mood:

exhausted

Current Music:

Paul and Storm, "Opening Band."
http://justinelarbalestier.com/blog/2014/03/10/some-more-on-the-bestselling-womens-book-club-or-bwfbc/
http://justinelarbalestier.com/?p=12860
Thanks so much everyone for all the fabulous suggestions in response to my previous post. Lots of great ideas there. We really appreciate it.
Your suggestions clarified two things for us:
1) We realised that we want to stick to the twentieth century. So we've decided to only read books from after WW1 up to 1994 (ie twenty years ago.) After WW1 because that's when women across classes1 were joining the workforce in larger numbers; because I've done a lot of research on the 1930s; and because there's an argument that that is when you see the beginnings of what is now called women's fiction.
2) As much as possible we'd like to do books that are available as ebooks because that makes it much easier for everyone to take part. We will, however, make exceptions for books we're very keen to read. Such as Han Suyin's A Many Splendoured Thing.
We're also making a decision about historicals. On the one hand I think they say a tonne about contemporary women's lives and feminism and like that. But on the other hand I really do think they're their own genre. Plenty of historicals by women never get talked about as women's fiction. Hilary Mantel, Dorothy Dunnett etc. So I'm leaning against. Especially as women's fiction today basically means fiction about women's working lives that don't fit the romance category. Also we've already got too many books to choose from! But like I said we're still thinking about it.
Looking forward to talking Valley of the Dolls with you this Wednesday night (US time) and Thursday afternoon (Australia time).
Working class women have pretty much always been in the workforce.
Someone's Daughter
, about an unidentified murder victim from 1954. As I was putting together my
master list of book posts
, I came across that discussion and remembered that someone had mentioned that Jane Doe had been positively identified. So I did a quick Google search, and sure enough, the same year that
Someone's Daughter
came out, with its theory that Jane Doe was a woman named Katharine Dyer,
(a) Katharine Dyer was found living in Australia and (b) Jane Doe was identified, by DNA testing, as Dorothy Gay Howard
. (The article has some quotes from Pettem that will demonstrate why I disliked her when I was reading her book.) The theory that
Harvey Glatman
was Jane Doe's murderer was apparently holding up, but, of course, it's a purely circumstantial case.
Given that I was just blogging about another
unidentified victim
and existential despair, it seemed
a propos
to remark that sometimes the Jane Does
can
be identified 50 years later. In one way, that doesn't matter at all, of course. She's still dead and there's no one to bring to justice. If she was murdered by Glatman, he was executed in 1959. If she wasn't murdered by Glatman, there's no telling who her murderer was and what became of him or her. But on the other hand, and in service of that quixotic streak I was talking about, it
does
matter. It matters enormously. Not to her, but to us.
If the living don't remember the dead, who will?
---
Also, speaking of that question,
If the living don't remember the dead, who will?
,
papersky
wrote a
poem
.
So, a couple years back, I read Silvia Pettem's
find
the post I want because there are so many of them. So this is the master list of book posts. I will keep updating it as I read more books.
Caveat 1: Nonfiction only
Caveat 2: Books I did not actually finish are italicized.
LAST UPDATED: March 9, 2014
(
cut for excessive length
Collapse
)
This is another entry mostly for me, but also for anyone who may find it useful. I find that I frequently want to refer back to previous book posts when discussing current reading, and it's getting very difficult to